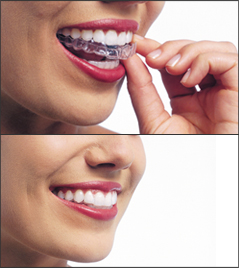 Maine Orthodontics is currently a Diamond Top 1% Invisalign Provider.
Invisalign is a series of clear aligners that are worn to straighten teeth. The first set of aligners closely matches the patient's teeth and each aligner is slightly straighter than the one before it. The patient will wear each set of aligners for about 2 weeks before moving on to the next set. The total number of aligners determines the length of treatment and is based on the severity of the case.
Invisalign is a great way to go through orthodontic treatment. The aligners can be removed for eating so there are no dietary restrictions. They are also removed for brushing and flossing so hygiene is easier to maintain. The aligners are very comfortable to wear and don't tend to irritate the lips and cheeks. Invisalign is also a very aesthetic way to go through treatment because the aligners are practically invisible!
The Invisalign Website is an excellent resource for more information on Invisalign.
Make an appointment with our office for a free consultation